Full Color Printing
---
Vibrant Colors and High Definition
Full color digital inkjet printing is used to place logos, photos or custom designs in vibrant colors and high definition onto both rigid and flexible surfaces.
Digital ink jet printers are an alternative to engraving or screen printing, and can produce brighter and more colorful results with more options.
We can print in full color directly onto acrylic, aluminum, ceramic, glass, crystal, metal, polyester fabrics, plastic, vinyl, tile, stone, slate and wood.
Wide Variety of Products
The abilty to print onto many diferent mediums allows us to produce a wide variety of products:
Awards and Plaques (traditional or custom shaped)
Banners
Bottles, Glasses, Cups, Mugs, Cans, Tanks
Coasters
Electrical Components
Employee Name Badges
Labels, Dial Faces and Plates
Luggage Tags
Medals and Medallions
Memory Boxes, Ornaments and Keepsakes
Photo Awards
Photo IDs
Reusable Bags
T-Shirts
Ink Jet
Ink Jet printers enable printing directly onto a variety of flat or three-dimensional surfaces. They can also be used to create raised or textured printing.
Ink jet printing is used to create full color plaques, bottles, mugs, coasters, employee name badges, labels, signs and more. This process is perfect for adding full color photographs to plaques, mugs and acrylic awards.
DirectJet Digital Ink Jet Printer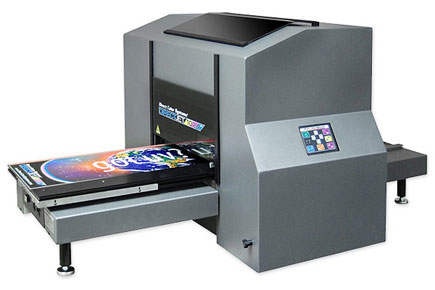 Sublimation
Full color, high resolution digital decorating is available with sublimation processes.
With sublimation, an image is imprinted onto a surface with a heat press using special, high-viscosity gel inks that produce incredible color and image quality. This process is suitable for printing on hard and soft surfaces such as shirts and other apparel, reusable bags, mousepads and more.
Ricoh Digital Ink Jet Printer & Heat Press